Mobile homes may stir up images of single-story trailers with vinyl siding, but today's mobile homes take the convenience of a manufactured home and make it luxurious. Coming in all shapes and sizes, Malibu's mobile homes are virtually indistinguishable from traditional properties, and the best part is that they often provide residents with incredible locations, all for a lower price tag. If you're considering Malibu houses for sale in a
mobile home community
, there are a few things to keep in mind before you sign the papers.
Know what you're paying for

When you invest in a mobile home, it's important to know that you aren't purchasing the land beneath your property. What you are purchasing is the home itself, as well as access to its location and any onsite amenities. Homeowners usually pay a monthly fee to rent the space, and that could range from a few hundred dollars to a few thousand. It may also be impacted by the number of times that particular home has sold. Though some mobile home parks do include the plot as part of the overall purchase, in most cases, instead of investing in the land itself, you're investing in the community.
Finding the right lender
In the eyes of most lending companies, mobile or manufactured homes aren't usually considered eligible for standard mortgages. If the home sits on a permanent site, lenders may think about it differently. Typically, though, if your home isn't on land that you own, lenders may not be willing to approve a loan. You can finance your mobile home in different ways, but it all depends on finding the right lender. Working with a
professional real estate team
experienced in the world of Malibu mobile homes can help you pinpoint which lenders to pursue.
Inspect Malibu mobile home features well

Mobile homes are built and put together differently than traditional homes. Though they're built to last, it's still important to inspect potential homes for any issues that may arise. First, make sure the structure has been set up and installed correctly. All drainage should be functioning properly, and there shouldn't be any leaky faucets throughout the house.
Replacing the bathroom floors is the most common repair made in mobile homes, so be sure to inspect the ones in your potential home thoroughly. It can be challenging to know exactly what to look for. Your
real estate agent
can help you organize a thorough and professional home inspection.
Malibu Luxury mobile homes are incredible
Malibu mobile homes aren't like anything you've seen before. Like standard homes, mobile or modular structures can come in a variety of styles, from Craftsman to
Mediterranean Revival
. They can be as modest as single-bedroom, single-bathroom residences or expand to accommodate three or four bedrooms and multiple baths.
The main perk of owning Malibu mobile homes is getting beachside access for a lower price tag. On the lower end of the scale, homes for sale in Malibu can start at the $6-7 million price range. However, many larger properties with private beach access can be anywhere from $15 million to $125 million.
Compare that to mobile homes for sale in Malibu, and you're getting beachside access for closer to $3-4 million, depending on the park. Plus, these homes are equipped with spacious living areas and all the same modern amenities you can hope for in typical Malibu real estate.
Malibu mobile home communities
Where can you find Malibu mobile homes? The area has several
communities
to choose from.
Paradise Cove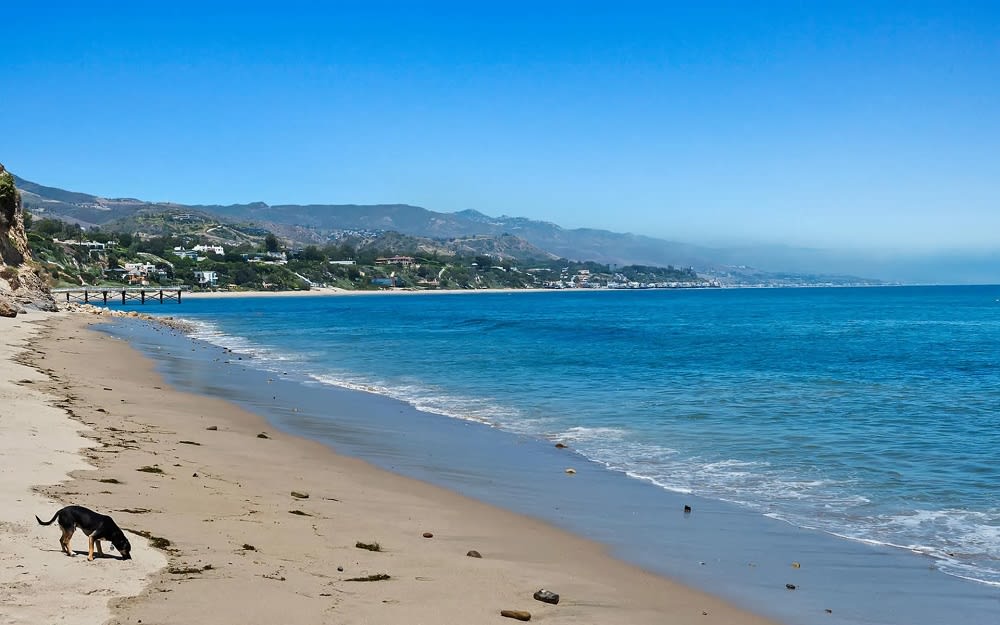 Image courtesy of The Carter Team
Paradise Cove
got its start as a vacation rental spot by the beach in the 1960s. Over time, it developed into what is now Malibu's premier mobile home park. The park accommodates over 275 homes and provides immediate access to the water.
In addition to its beachside location, Paradise Cove has a playground, basketball and tennis ball courts, a walking trail, a rec hall, and an
onsite restaurant
for residents to enjoy. Malibu houses for sale in Paradise Cove range from $995,000 for a cozy single bedroom, single bath to nearly $3.5 million for a two-bedroom, two-bath with ocean views.
Point Dume Club
Image courtesy of The Carter Team
Point Dume Club
sits beside Santa Monica Bay and truly takes mobile home living to another level of luxury. A gated community, Point Dume is a safe place to call home, with amenities ranging from a heated pool to the onsite clubhouse, tennis courts, and saunas. Point Dume Club mobile home community has just under 300 homes and is within walking distance to the nearby dog park and trails. Homes in Point Dume also have access to the iconic
Westward Beach
and Zuma Beach.
Malibu Village
Malibu Village
is a cozy, pet-friendly Malibu mobile home community with 29 homes. The community is steps from Will Rogers Beach, gaining premium access to some of California's most beautiful sunsets.
Unlike homes in other mobile home communities, Malibu houses for sale in Malibu Village are attached to the land, meaning residents own their piece of the park. While there are homeowners association fees to contribute to, residents of Malibu Village do not have to pay a monthly fee to rent their property. In addition to the beautiful beachside location, Malibu Village offers its residents a clubhouse, community pool, and proximity to a number of fantastic schools.

Mobile homes in Malibu are a great way to experience the luxurious beachside lifestyle that the city offers without investing as much as you would in a traditional home. If you're looking for a well-proportioned three or four-bedroom home in Malibu and want to consider manufactured homes, working with a team that understands the luxury mobile home market is key.
Find Malibu homes for sale
David Carter of the Carter Team has more than 30 years of experience helping clients find their dream homes in Malibu mobile home communities. To discover the best park for you and your family or to learn more about other real estate options in Malibu, reach out to
the Carter Team
.